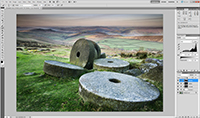 Click on image for PDF Tutorial
How to Use Multiple Levels Adjustment Layers to Lighten, Darken or Adjust the Contrast of an Image.
This method involves the creation of 3 separate LEVELS Adjustment layers. One layer to, darken the image, one layer to lighten the image and one layer to adjust the contrast of the image.
The use of the layer mask that comes with the adjustment layer allows you to select which parts of the image you want to adjust.
You can see the effect of the adjustment as you go along.